Beginner Sessions
Sit, relax, and let go. You can start weaving by yourself within a minute. Experience the SAORI way with over 500 materials and take your creation home with you! No experience is necessary and all ages from 5 years old welcome.
2-hour Introductory Session
Experiment with SAORI weaving! We will initially guide you with simple techniques, and within a minute you will be able to start weaving by yourself. It's easy, fun, and no-mistakes! Unlike conventional weaving, we don't teach how to make a uniform fabric like a machine-made. We always try to do what only human beings can do. Let your creative mind find your true self by using yarns from over 500 colorful and natural materials. In a two hour session, you can complete a tapestry-size woven piece to take home!

2 hours @ $60
• Pre-set loom with 12" width black cotton warp.
• Outside materials are not permitted.
• Ages 5 & up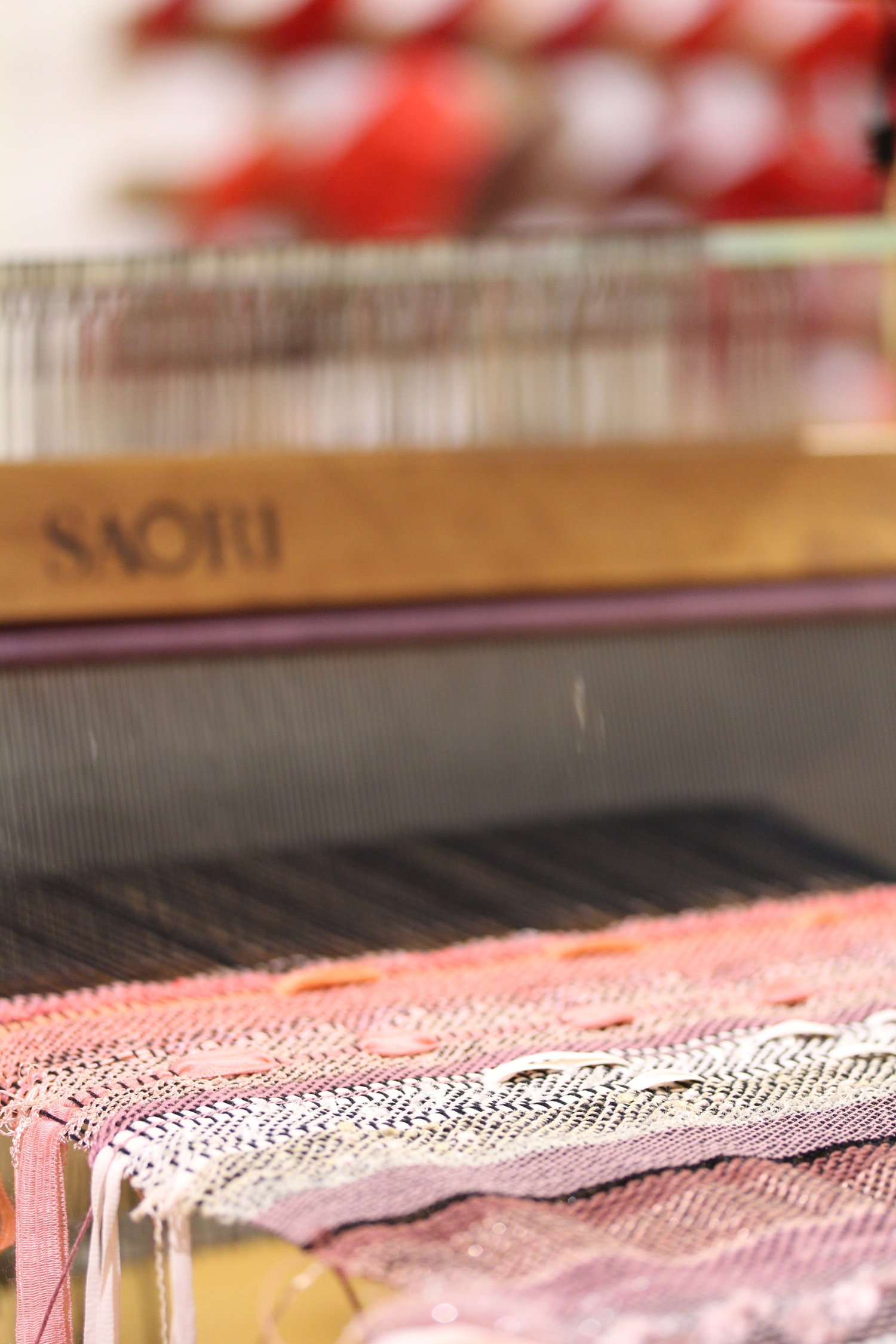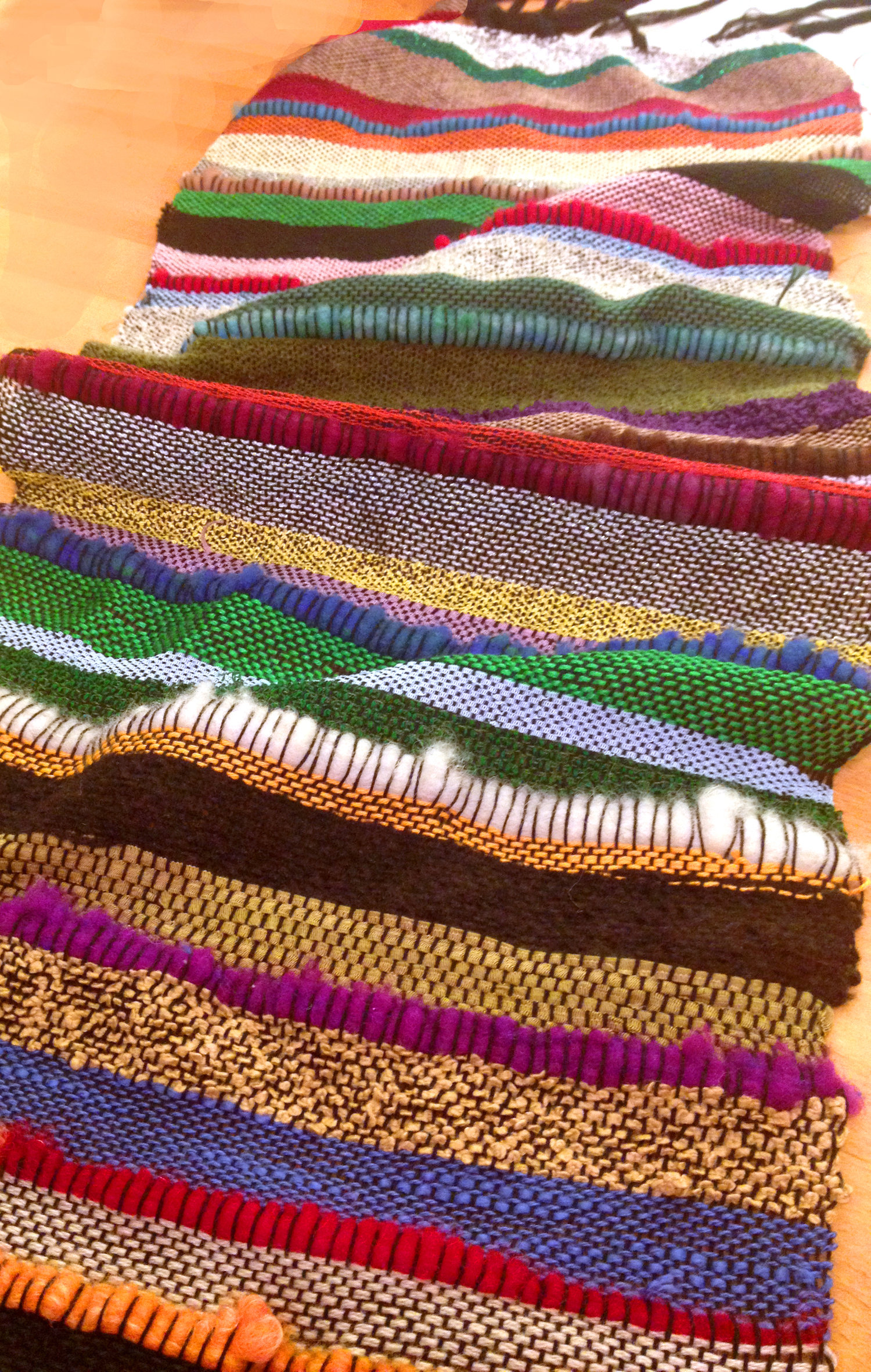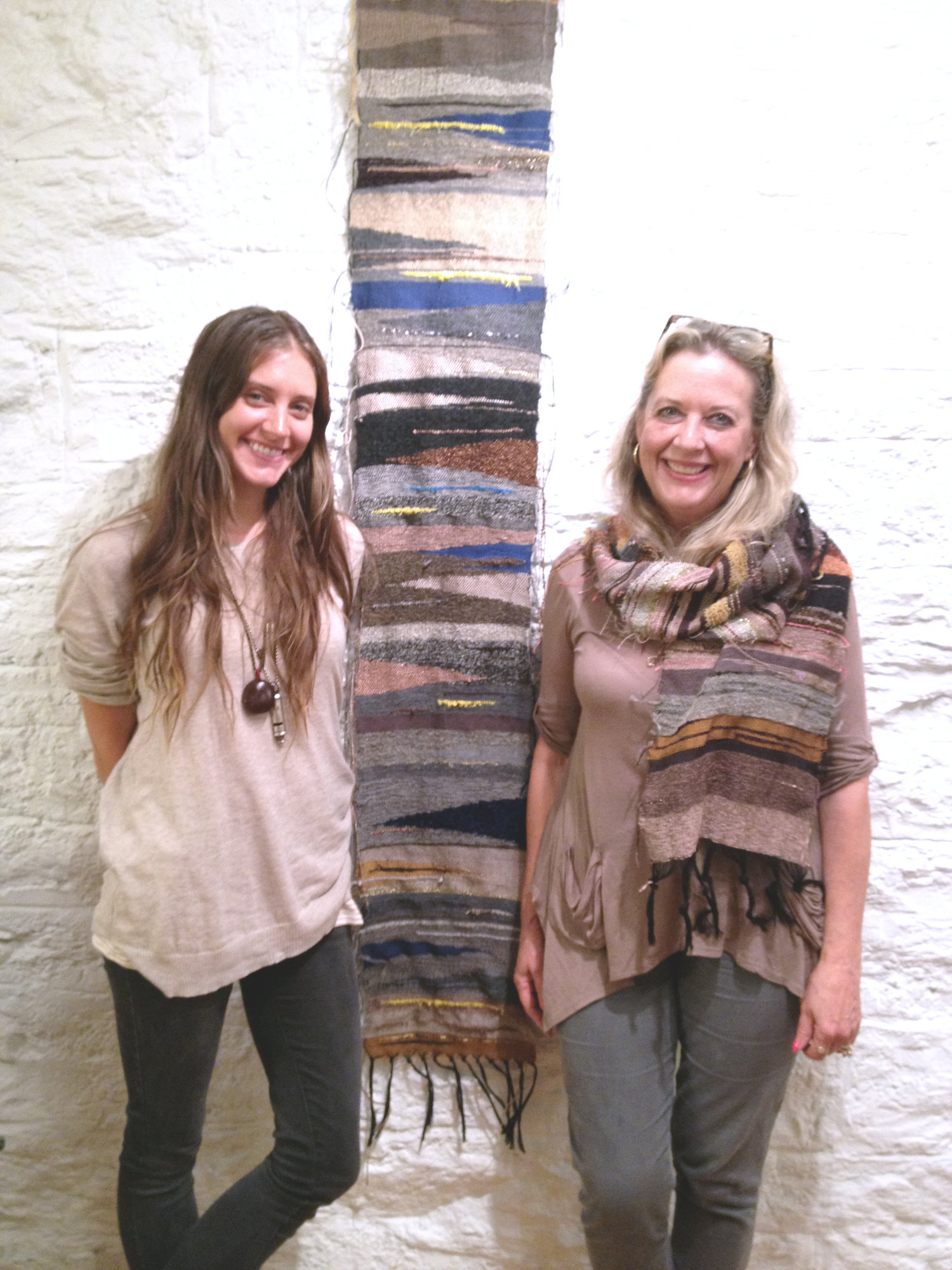 Mindful Zen Weaving Session
No experience necessary. Let yourself unwind, express yourself, and explore the ideas with various materials for as long as you like during our studio hours from 11am to 6pm. Enjoy your day-long excursion through zen weaving which is your creative journey!
All day (up to 7 hours) @ $120
• Explore yourself in a single weave, 
not a session to complete multiple pieces.
• Pre-set loom with 12" width black cotton warp.
• Outside materials are not permitted.
Advanced Packages
Let's learn from how to set up your loom to making a garment! Your project goal is unlimited. Students of Advanced Classes can use premium yarns in the studio, our sewing machine, and SAORI clothing patterns. Spinning lesson to make your own custom yarns is available by request.
Advanced Class Package
We offer 2-hour long sessions in packages of 4, 8, and 12.*
Learn to set up your own warp and finish one or two major projects. You will receive individual consultation and project guidance, including learning how to sew your piece together!
In 4 sessions (to be completed within 6 weeks), you can make a scarf, tapestry, wall hanging, table runner, etc. We encourage you to come with any unique project idea!
$180 / 4 sessions

In 8 sessions (to be completed within 12 weeks), you can make any combination of the above, a large tapestry, or projects involving sewing like a bag, pillowcase, basic top, and more.
$300 / 8 sessions

In 12 sessions (to be completed within 16 weeks) you can challenge yourself to more advanced garments, sculptures, accessories, tapestries, and beyond!
$400 / 12 sessions

• Prerequisite: Advanced classes requires that you've taken a Beginner Session.
One Month Studio Pass
Work on your own projects for a month.
This is not an instructional session. You may bring your own materials to weave. Supportive guidance will encourage continued growth for becoming a SAORI instructor and/or a member of SAORI Leader's Committee.
• Prerequisite: Advanced Class and warping skill.
Kid's Classes
Our class provides a process-oriented program that empowers every child to create and self express with confidence without the fear of making a mistake. Children of different levels can learn together while pursuing their own individual felting, spinning, sewing, and weaving projects with semi-private instruction and guidance. Their works can be displayed at our exhibition and fashion show.
Weekly Afterschool Kid's Class
Ages 7-12
Offered every week from Tuesdays to Fridays,
4:00-5:30 pm
$450 / 1.5-hr x 10 sessions
Introduce creative weaving and encourage the development of students' skills by spinning and felting from natural fiber, dyeing, sewing, knitting and crochet.

Guidance to set up simple warping process.

Student can choose any or multiple projects (such as belt, hat, bag, pillow, accessory, garment, tapestry)

Customized support based on students' levels.
10% off if you bring a sibling with code SIBLING
Reserve your space now for September back to school classes!
Project-based Class
Ages 6-14
1.5-hr per session, amount of sessions depend on project chosen
Price Varies depending on project chosen
We introduce your child to the joys of weaving and unique projects from their woven art. Our staff guides students on their project of choice based on their age and skill level.

Choose to make any project: Hat / Tapestry / Bear / Pillow / Bag, and more ...
• Prerequisite: a Beginner Class
Special Services for Groups
Traveling workshops, demonstrations, school fairs, parties, and home schooling classes.
Traveling Workshop
Hands-on demonstrations, various events and a small group class on-site.
2-hour weaving workshop includes; 1 instructor, 1 SAORI loom, all materials

Participants can take home their artwork depending on the type of event.
Birthday Party / Group Session
Weaving parties are a great way to share and make memories with others. Handmade creations make their party celebration extra special and unique!
Great for: Birthday party, Team building, Family fun, Ladies gathering, School trip
Homeschooling Family Class
Encourage developing manipulative skills by weaving, spinning and sewing to home schooling families.
Must have 4 people to register the class.

Customized program for the group.
Needle Felting
It's fun once you master how to manage a sharp needle. Felting needle is a magic needle. This simple tool can make 3-dimensional form freely. We patiently teach to students how to create safely and have fun the process of felting!

In a 2 hour class, you can make 1-2 small animals.

If you want to do at home after the class, you can buy a felting kit and fleece at Loop of the Loom.

Ages recommend 8 years old - adult
$60 / 2 hours
Materials are included

Nuno Felting Scarf
Nuno felting is a technique which creates beautiful layered textiles of fabric and natural fibers, inspired by ancient felting processes.
The process of wet felting is a physically laborious process, but we will guide you through to a wonderful result with an adapted technique and as little physical strain as possible. Like a group workout, it's fun to do together. We believe that the end result is beautiful because of the love and the effort put into the cloth's creation. Improvised colors and textures made by nature make us happy. Let's make together with other fiber lovers!
Note
Bring an apron and rubber sole indoor/outdoor shoes.
Date TBA
$120 / 3 hours
We provide:
1 Silk chiffon fabric (72" x 18.5")

Various merino fleece and silk fibers

Drop Spindle
Level: Beginner
2 hour x 1 session
$60
Materials are included
Call for appointment.
Spinning Wheel
Level: Beginner
2 hour x 2 sessions
$120
Materials are excluded ($5 per ounce)
Call for appointment.